PrestaShop to Shopify Migration: Unlock E-commerce Potential
Publish at: June 5, 2023
Author: admin
Welcome to our informative blog post, where we share the incredible success of our recent migration project—moving from PrestaShop to Shopify. In this article, we'll explore the reasons behind our strategic decision, the seamless transition process, and the remarkable benefits we've gained from this platform switch.
Identifying PrestaShop's Limitations and Choosing Shopify
During a recent client project, we carefully analyzed and identified the limitations inherent in PrestaShop's feature set and customization options. To overcome these challenges and drive our client's online store to new heights, we made a well-informed choice to migrate to Shopify. Shopify is renowned as a highly versatile e-commerce platform with extensive customization capabilities.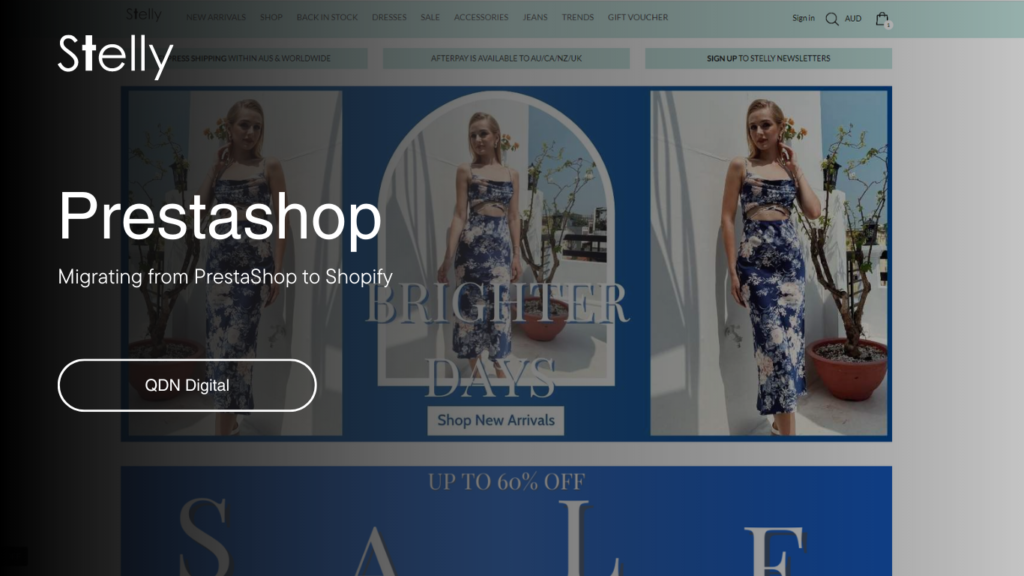 Seamless Transition Process: Migrating from PrestaShop to Shopify
With the invaluable support and expertise of our dedicated technical team, we executed the migration process flawlessly. We meticulously reconstructed the entire store on the Shopify platform, ensuring a smooth transfer of essential data from PrestaShop. At the same time, we diligently configured the features and design elements to maintain absolute consistency with the original setup. This meticulous attention to detail guaranteed uninterrupted service for our client's loyal customer base, instilling confidence and trust in their online shopping experience.
Remarkable Benefits of PrestaShop to Shopify Migration
The results of this migration project surpassed even our highest expectations. Shopify's visually appealing and fully responsive interface elevated the shopping experience across a wide range of devices. We leveraged Shopify's robust customization capabilities to effortlessly tailor the store's appearance and functionality to perfectly align with our client's unique brand identity. The outcome was optimized customer engagement, increased conversions, and overall business growth. Furthermore, Shopify's comprehensive suite of integrated features and scalable infrastructure provided a solid foundation for future expansion and success.
Expert Support for Your PrestaShop to Shopify Migration
We take immense pride in the success of our PrestaShop to Shopify migration. This migration has unlocked new opportunities, elevated our client's online presence, and positioned them for sustained growth in the competitive e-commerce landscape. If you find yourself facing similar challenges or contemplating a platform migration, our experienced team stands ready to provide comprehensive support and guidance throughout the seamless transition process. Don't hesitate to contact us today and embark on your own PrestaShop to Shopify migration journey, as we are eager to help you unlock the full potential of your e-commerce business.