Revamping Alpine Initiatives: Inspiring Website Redesign
Publish at: June 25, 2023
Author: admin
In some of our previous projects, we had the opportunity to collaborate with Alpine Initiatives on an exceptional undertaking – the redesign and reconstruction of their website. This partnership allowed us to demonstrate our expertise in creating visually appealing and highly functional online platforms.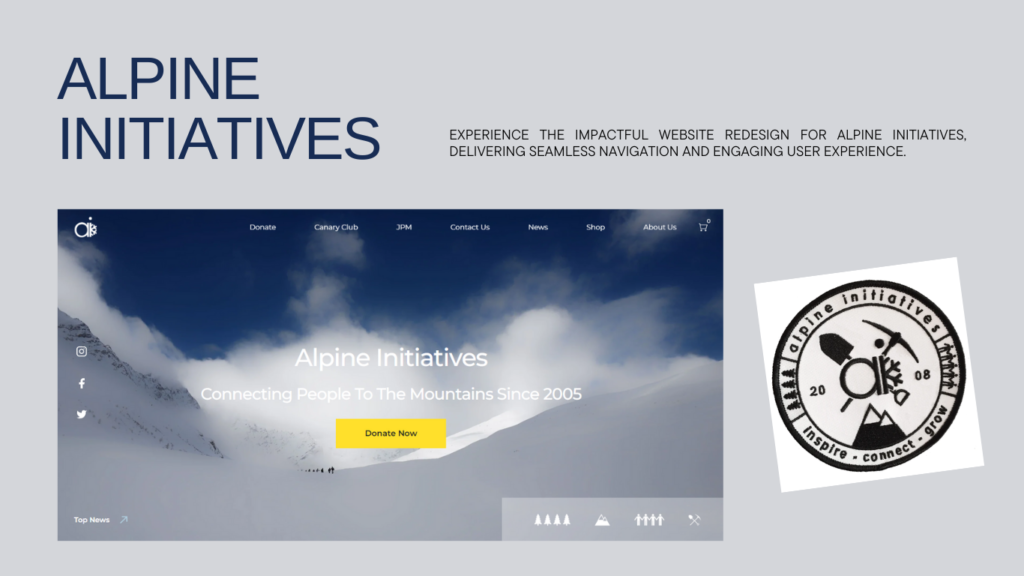 Outstanding User Experience and Seamless Navigation
Located at Alpine Initiatives, the newly revamped website offers visitors an outstanding user experience. With its seamless navigation and engaging interface, users can effortlessly explore and interact with the site. Our team's meticulous attention to detail ensured that the website's design adapted flawlessly to different devices, providing a consistent and enjoyable browsing experience for users on desktops, tablets, and smartphones.
Optimized Performance for Enhanced User Experience
The primary focus of our project was to optimize the website's performance. By implementing advanced techniques and technologies, we were able to achieve fast loading times and smooth page transitions. This enhances the overall user experience, keeping visitors engaged and encouraging them to delve deeper into Alpine Initiatives' mission.
Tailored Design Reflecting Core Values and Purpose
Throughout the collaboration, we closely collaborated with the Alpine Initiatives team. Their valuable insights and input allowed us to tailor the website to their goals and aspirations. We meticulously curated colors, imagery, and content to effectively communicate Alpine Initiatives' core values and purpose, captivating visitors and inspiring them to support their initiatives.
Stunning Showcase of Impactful Work and Community Engagement
The successful completion of this project fills us with pride. The revamped website serves as a stunning showcase of Alpine Initiatives' impactful work. It also fosters active community engagement. The website redesign signifies a significant milestone for Alpine Initiatives. It marks a new chapter in their journey of raising awareness and effecting positive change in their field.
At our company, we are honored to have partnered with Alpine Initiatives on this exciting website redesign and reconstruction. We are committed to delivering high-quality solutions. Our goal is to empower organizations to achieve their goals. This commitment shines through in our collaboration with Alpine Initiatives. Together, we eagerly anticipate shaping a brighter future. We aim to drive a positive impact and make a meaningful difference in the world.
Contact us today to discover more about our services and start building a remarkable website for your business. We are eager to hear your ideas and create a customized solution that meets all your needs, ensuring success in the digital realm.