Stelly – Prestashop to Shopify Migration Success
Publish at: June 22, 2023
Author: admin
We are excited to showcase our successful project of migrating Stelly, an esteemed fashion brand from Australia, from Prestashop to Shopify. Stelly's website, has undergone a seamless transformation, and this article provides an overview of the migration process and the benefits reaped from transitioning to Shopify.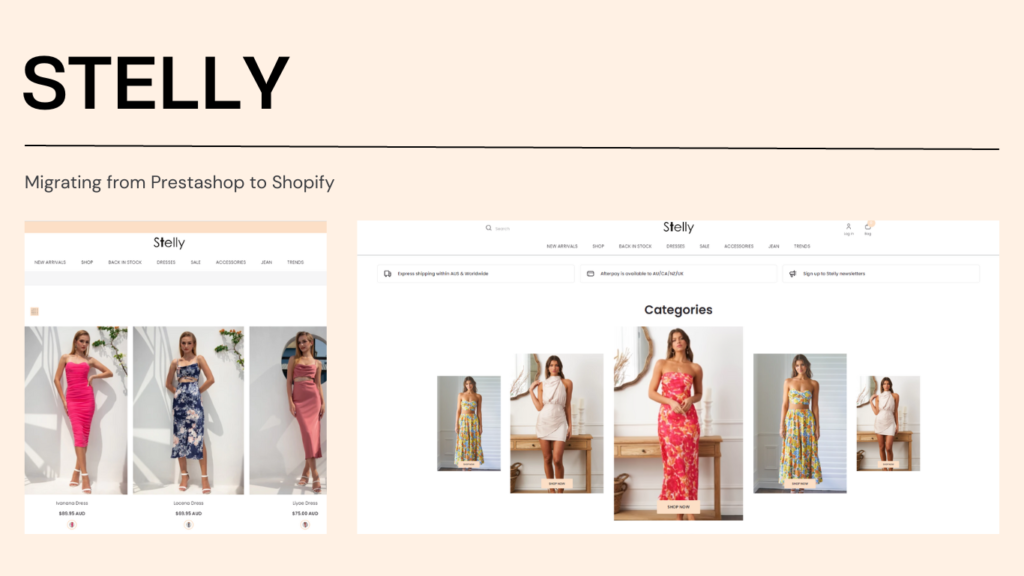 Stelly is a renowned and beloved fashion brand in Australia, known for its trendy and unique clothing offerings. With a commitment to providing customers with the latest fashion styles, Stelly has built a strong reputation in the industry and emerged as a leading destination for fashion enthusiasts in Australia and the Asia-Pacific region.
Prior to partnering with us, Stelly was utilizing Prestashop as its e-commerce platform. However, they encountered challenges such as a non-responsive mobile interface, limited customization options, and difficulties in managing products and orders.
To overcome these challenges, we proposed migrating Stelly's online store from Prestashop to Shopify. Shopify, known for its powerful features and user-friendly interface, provided the ideal solution for Stelly's needs.
The migration process encompassed the following key steps:
Requirement analysis: We closely collaborated with Stelly's team to understand their technical requirements, business objectives, and desired customer experience.
Interface design: We crafted a responsive and visually appealing interface on Shopify, tailored to Stelly's brand identity and the preferences of their target market in Australia and the Asia-Pacific region.
The outcome of the project included:
Data and product migration: We seamlessly transferred Stelly's product data, including categories, descriptions, images, and customer information, from Prestashop to Shopify.
Customization and integration: We customized Stelly's Shopify store to align with their unique requirements, integrating additional tools such as advanced search functionality, payment gateways, and streamlined order management.
Testing and deployment: Rigorous testing was conducted to ensure a smooth transition and uninterrupted operation of the new Shopify-based online store.
Training and support: We provided comprehensive training and ongoing support to empower Stelly's team to efficiently manage their Shopify store.
Following the migration from Prestashop to Shopify, Stelly experienced numerous benefits, including:
A mobile-responsive website, providing an enhanced shopping experience for customers across devices.
Increased flexibility and customization options, allowing Stelly to tailor their online store to match their unique brand identity and meet the preferences of their target audience.
Streamlined product and order management processes, enhancing efficiency and productivity.
Dedicated technical support, ensuring the smooth operation and continuous growth of Stelly's online store.
The successful migration from Prestashop to Shopify has empowered Stelly to elevate its online presence and deliver an exceptional shopping experience to its customers. We take pride in our collaboration with Stelly, and we are committed to supporting their ongoing success in the ever-evolving e-commerce landscape.
Contact us today to discover more about our services and start building a remarkable website for your business. We are eager to hear your ideas and create a customized solution that meets all your needs, ensuring success in the digital realm.